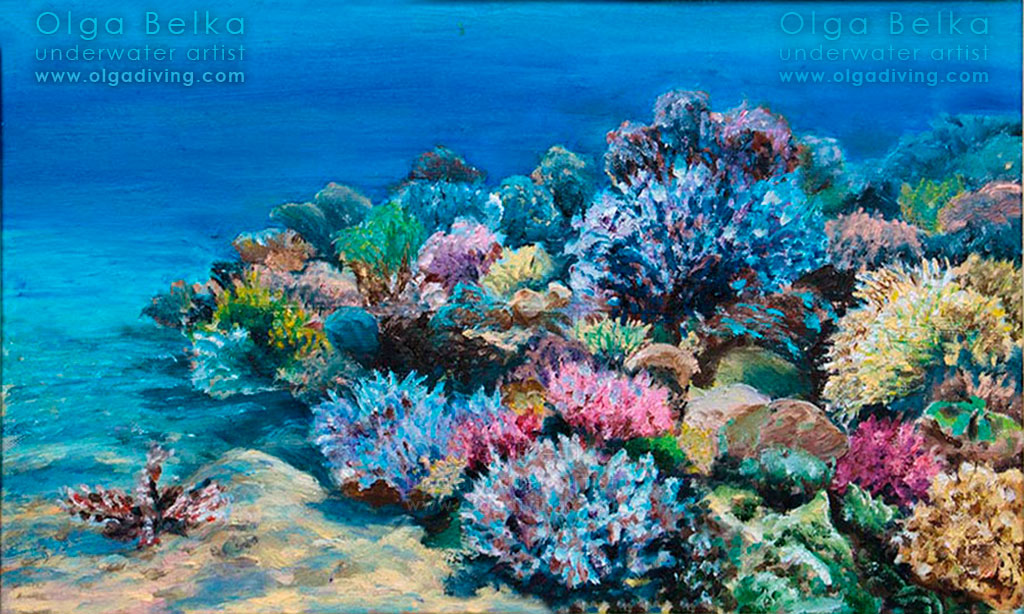 canvas, underwater painting
50×30
2017
2900 USD
I was struck by this small coral reef. The wealth of coloring and abundance of colored fish fascinated me. But I decided to devote this painting particularly to the colorful diversity of the reef and the sun glare on the sand. I didn't want to diverge from the subject and to add sea inhabitants.
During the 3 dives course, I was studying in detail and depicting the corals, which were so diverse in color and shape. Unexpectedly, in the fourth dive, a lionfish approached me wishing to become a model. At that moment I realized that it was right, not me. It was just a little living detail that I needed to complete the composition.
Anyway, it is useless to plan a composition. It is impossible to predict who will visit me, a lonely artist, at the time of the next dive. Painting underwater is the result of interaction with animated nature and marine life. The composition of some paintings may seem strange to you. But it represents another harmony created by those who are above us.
P.S. Underwater artist Olga Belka appreciates the Diving Center «Anthias Divers» in Sharm El Sheikh for all the help and support in creating this painting.