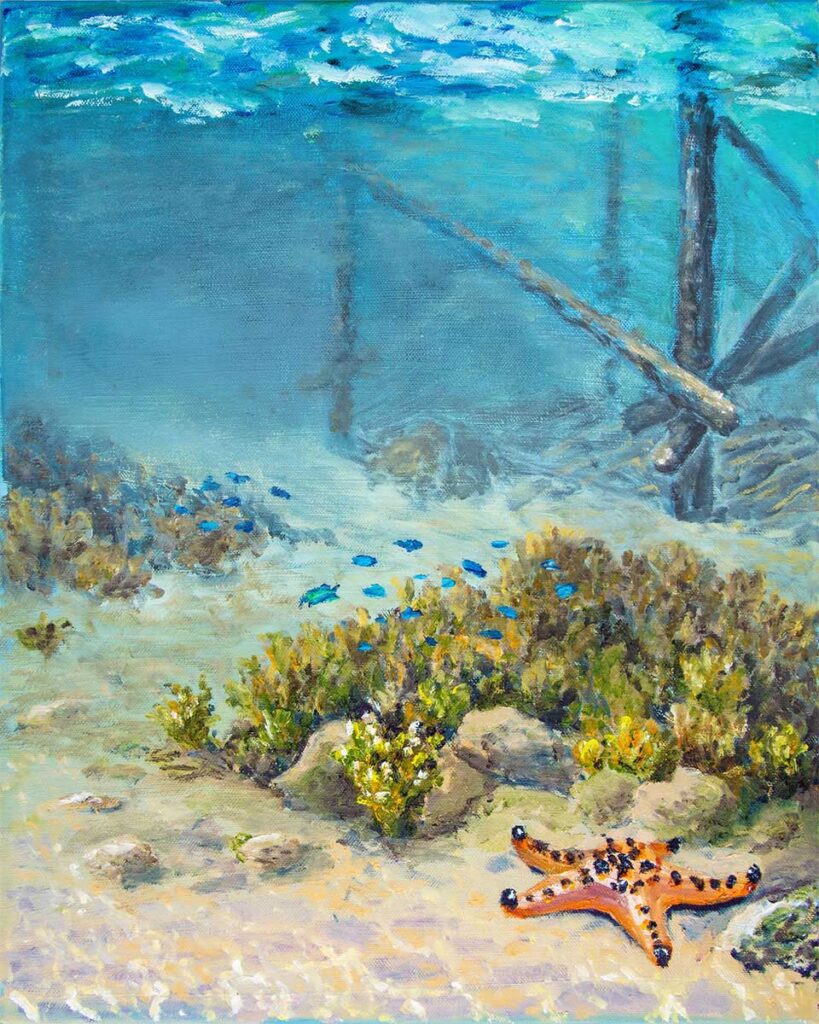 canvas, underwater painting
50х40 cm,
2023
3900 USD
Painting this artwork was one of the most unusual experiences for me. People often ask if I am sure that my paints are safe for marine life. That's why Ocean Quest Global, the marine conservation organization, and Anuar Abdullah, the founder, invited me to do a series of tests. It was an honor to be part of the research of such a renowned expert in coral restoration.
I had been painting during two dives of 1.5 and 2.5 hours at a depth of 2 meters. The research took place directly at their coral nursery on Mabul Island, Malaysia. You can't see the corals in my painting because they are still small and hidden between the algae. I settled under a pier with some equipment similar to a mobile laboratory. Water was taken up through the hoses. There were many other tests, which I will post on my website soon. The experts' report is Eco friendly underwater painting by Olga Belka.
But a lot of funny things were happening besides the research. A beautiful and deadly blue-ringed octopus was watching me from the seaweed. A stonefish was a meter away from me. It's also poisonous, by the way. And a starfish became my model and buddy. It came to stay beside me. It was already waiting for me to continue working together on the second day.
The painting is complemented by a fishing net found during the coral reef clean-up. I've used it as a recycled material for the decorative frame.
P.S. Underwater artist Olga Belka appreciates Uncle Chang's Sipadan Mabul Dive Lodge and Ocean Quest Global for all the help and support in creating this painting.